What is the new Apple Voice Control?
Apple Voice Control is the new speech-to-text option on the Mac and on iPhone/iPad. It's a powerful enhancement of the operating system that allows you to dictate your text.
You can also use voice commands to click or tap buttons and menus. Voice Control has been available to Apple users from end 2019 with the release of Mac OS Catalina and iOS 13/iPadOS 13.
Because it's part of the operating system, it automatically comes with your latest OS update. And that means that you get some powerful speech recognition software for free! And it is very similar across the Mac and iPad/iPhone platform! How cool is that?
Watch the demo video of Apple Voice Control on Mac and iPad
Is Voice Control an improved version of Siri?
No, Voice Control and Siri are entirely different features on your Apple device. I've written a separate blog article to highlight the difference between Voice Control and Siri. Although Voice Control and Siri cannot listen to the same commands at the same time, they can both be enabled on your device without problem.
In what languages is it available?
On your mobile device, you can currently only use US English. On your Mac, you can theoretically use Voice Control in all the languages that were (are) available through 'keyboard dictation'. This is the dictation where you could click the microphone next to thespacebar and you could dictate in short phrases when you were connected to the Internet.
Note: Although I have succeeded in downloading UK English and Dutch on my Mac Mini, I have been extremely unimpressed with the results. At this point in time [January 2020] I strongly feel that the only language that's worth using is US English.
What do you need to succesfully use Voice Control?
For best results with Voice Control it's a good idea to check these points, especially if you are disappointed when first trying it out. What do you need:
A computer with Mac OS Catalina or a mobile device with iOS/iPadOS 13.
A decent microphone. If you're not happy with recognition results when using the built-in microphone on your MacBook or iPad, try with a decent headset or a good desktop microphone. Wired Apple earbuds seem to work just fine.
Your voice. Be careful to ease into dictation if you are prone to voice strain (what happened the last time you visited a café? Did your voice tire easily?).
Good pronunciation of the words. It can take some time to get used to dictating clearly.
Knowledge of some basic speech commands. In the settings where you enable Voice Control you also find a list of commands.
A reasonably quiet environment. Depending on what microphone you are using, you'll still be able to work with some background noise. But background noise almost always decreases recognition rates when using speech recognition software of any kind.
Is it possible to customise Voice Control?
Yes! ? For dictation you can add your own custom words to the vocabulary, so that Voice Control will recognise them. Teaching Voice Control your own words only works for US English, though. And unfortunately the words you added on the iPad won't auto sync with the Mac and vice versa.
So you'll have to add words to the vocabulary on all devices separately. I'm hoping that in a future version this will be improved. It is also possible to create new speech commands, so that you can automate actions that you perform often. Really cool!
Can you use Voice Control for 100% hands-free computing?
In theory Voice Control offers both dictation and commands for controlling your device. However, we are currently dealing with the first iteration of this new speech recognition tool and while it is a huge improvement over what was available before, it is not perfect.
If you are 100% dependent on your voice for entering text and controlling your computer, you will struggle and experience many frustrating moments.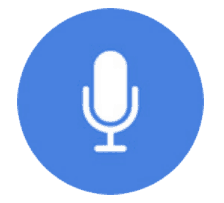 Admittedly, even with Dragon speech recognition on a Windows PC you will know many frustrating moments if you are 100% dependent on your voice for controlling your computer, but Dragon for Windows is still much better than Apple Voice Control. At least, at this point in time.
Voice Control is certainly good enough to be tremendously helpful in decreasing the need for typing on your keyboard and using the mouse by a large amount. In my experience so far I have had to restart Voice Control now and then in order to get it to work again.
I am using it on an older Mac Mini with an i5 processor and 4 GB RAM and Voice Control runs on the local computer so I might be experiencing some performance issues.
How to enable Apple Voice Control
After all this information about Apple Voice Control it is time to give it a spin!
Enable VC on your Mac:
Go to System Preferences
Click Accessibility
On the left, choose Voice Control
Click Enable Voice Control
You may be required to enter your password to download & install the language files The Voice Control floating icon will appear and you can 'put it to sleep' for the moment by saying "go to sleep".
Enable VC on your iPad or iPhone:
Open Settings
Go to Accessibility
Tap on Voice Control (in the second block 'Physical and Motor')
Enable the first option: 'Voice Control'
After this, you'll see VCs blue mic icon in the top right corner of the screen, right next to your wifi signal indicator.

How to use it
Using Voice Control is not rocket science and you will find tutorials on YouTube that will show you how to do it. That might be all you need to get off to a flying start. As a speech recognition software expert I know just how annoying it to rely on free online tutorials. Before you know it, you have spent 10 minutes watching a tutorial which in the end does not teach you what you wanted to know!
Apple Voice Control Courses
To save you time and frustration, I offer an online courses on how to use Voice Control on the Mac.
✅ A clear index so that you immediately find what you need
✅ How-to videos, short and to the point
✅ Tips on how to dictate and microphone use
✅ Preventing mix-up between commands and dictation
✅ Printable cheatsheets with cool commands for efficient dictation  

SHOW ME THE APPLE COURSE