Get away from the keyboard and mouse
Become fluent in Dragon
speech recognition


Learn to use Dragon Pro Individual effectively even if you have been frustrated with speech recognition in the past.
Are you struggling with Dragon?
Then perhaps this is you...
| | |
| --- | --- |
| | Dragon drives you batty, not recognising your dictation or commands reliably. |
| | You find yourself spending hours on YouTube and Google trying to figure out how to make Dragon work. Only to find out the information is outdated. |
| | |
| --- | --- |
| | You fear missing deadlines or opportunities, because typing and 'mousing' is difficult. And you really need Dragon to help you out with that! |
| | Dragon is hard for you to master because you're just not a techie. |
     No more worries! I've got your back
Discover the
Learn Dragon Online Academy
And become fluent at using Dragon Pro Individual
Learn to use Dragon speech recognition software from your own desk and at your own speed.
The Learn Dragon Online Academy offers online digital courses and support via optional membership.
It takes you from beginner level to proficiency via clear, to-the-point tutorials and command cheat sheets.
This is what you get in the
Learn Dragon Online

 Academy
| | |
| --- | --- |
| | Big Master your Dragon course |
| | Short courses on specific topics |
| | Forum for your questions |
| | |
| --- | --- |
| | Monthly live Q&A sessions |
| | Recordings of all previous Q&As  |
| | Find lessons easily  |
"Extremely grateful"
"Janneke took the time to answer each and every question during the live session"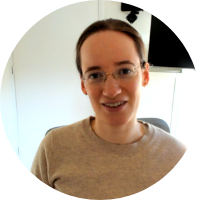 Julia
Alumna Learn Dragon Online Academy
Show time!
Watch the video to see what it looks like on the inside
Dictate with accuracy
Dragon can write down any word correctly and I will teach you how to do that.
With my tips on accurate dictation, you'll have way less corrections to make.
Stop wasting time
Have you ever watched a YouTube tutorial for 15 minutes, only to find out at the end that it didn't tell you what you wanted to learn...?  
Ahrgh!  Enough said!
Be confident
No more worries about having to type up that big article.

You just pick up your microphone and you are 'typing' faster than your colleagues who use the keyboard.
Learn from an expert (and fellow user)
As someone who needs and uses Dragon on a daily basis, I teach you what works in practice.  
I don't hesitate to admit Dragon's limitations.
If you want this  then you're in the right place!
Read what these academy members have to say:
LearnSpeechRecognition | Den Draak Spraakherkenning
"
"Great video tutorials"
George
Teacher (and Academy member)
LearnSpeechRecognition | Den Draak Spraakherkenning
"Demystifying Dragon"

"You do a wonderful job in imparting the secrets of Dragon very effectively."
Diane
Academy member
LearnSpeechRecognition | Den Draak Spraakherkenning
"Well worth the investment"

"Dragon was not friendly for this new user. the Learn Dragon Online membership and the Q&A sessions greatly facilitated my productivity."
Bob H (MD)
Academy member
Monthly
$49

per month

*
Most flexible option
*
Access to all courses in the membership
*
Access to 12 Live Q&A sessions
*
Ask questions 24/7 on the forum
*


Most popular
Annual
$249

First year (then $79/yr)

*
Save 7 months!
*
Access to all courses in the membership
*
Access to 12 Live Q&A sessions
*
Ask questions 24/7 on the forum
*
Annual renewal only $79/yr 
*
Frequently Asked Questions
It certainly is!
You do need to have experience using a Windows computer, but you don't need to have any experience using Dragon speech recognition software
The LDO academy is not intended to teach you to use your computer 100% by voice. In the lessons I am assuming that you can occasionally click the mouse or type some words.
Having said that…
Practically everything in the academy is accessible with Dragon speech recognition software.
Nevertheless, I'd rcommend you have someone around to help you if you have zero option sto use the mouse and keyboard. Otherwise I'm sure you will struggle.
And remember: You are just learning how to use Dragon. That means that you first have to learn enough Dragon skills to get better at hands-free navigation.
First of all: This is NOT for Dragon Professional Anywhere.
The content is made with Dragon Professional Individual in mind. This is also the version shown in most tutorials. 
Home edition: If you have the Dragon Home edition you will be able to learn many things here. However, you will also encounter quite a few lessons about features that you do not have available. So that could be quite frustrating if you are not aware of that.
Dragon Professional Group: You can certainly join the academy. There is, however, a modest caveat:
The videos in the course are created with Dragon Professional Individual (DPI). The DragonBar (menu) is organised differently in Dragon Professional Group than in DPI. There a guide included about where to find the menu options in Dragon Professional Group.
There is no content on how to implement Dragon in an organistion or any of the admin features that come with the Group version of Dragon.
In a limited way.
Teaching how to create custom speech commands is not the purpose of the Learn Dragon Online membership. If learning about custom commands is your main goal, then this is not the right place for you.
However there are some instances where a custom command or two help a whole lot and I do help out with suggestions for step-by-step commands. The occasional simple Advanced Scripting Command may also be covered, but this is not support that you're entitled to based upon your membership at the LDO Academy.
Fortunately there is some free content here in the Academy to get you started with Dragon.
You can also check out the training resources in the software itself. There is an interactive tutorial in the Help.
And YouTube is another free resource for learning about Dragon.
Sadly, there no longer is a version of Dragon for Mac computers. It is only for Windows.
Yes to refunds. I'm convinced you'll find the site good value for money. However if you decide to cancel your purchase within 14 days, you will get your money back. 
As to success guarantee...
That's a bit of a tricky question to answer.
I know that I offer lots of value in this online learning environment. 
Still, you will not miraculously improve your Dragon skills by the simple fact that you are possibly going to spend the money to access the Learn Dragon Online Academy (and thank you for considering that!).
As with any skill, you'll need to apply yourself to get better.
And if for any reason you decide within 14 days of purchase that Learn Dragon Online is not for you, tyou can cancel under the money back guarantee.