5 free tips for remote working ergonomics
Remote working ergonomics... perhaps not the sexiest of topics, but currently more important than ever. Due to the COVID-19 pandemic, tens of thousands of people are obliged to work from home. Unfortunately, most of them have not been able to prepare for this. They are working on laptops at the kitchen table in a kitchen chair. Or perhaps sitting on the couch, with the laptop on their lap.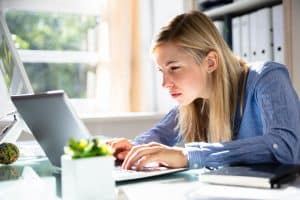 Unsustainable working posture That may be fine for many people for an occasional homeworking day. However, it is an ergonomic disaster waiting to happen if you work like that all day, every day. When I was working at home during my last Christmas break, I did not want to spend too much time in my office room upstairs. So I 'ergonomised' a corner of the dinner table. That made it possible for me to work for a few hours without getting myself into ergonomic trouble. Obviously, you can use speech recognition software to reduce your typing (and increase your speed).
If you can afford ergonomic solutions for your home office
If you have to work from home for the foreseeable future, it is a good idea to invest in some office furniture. Whether you suffer from repetitive strain injury or other physical issues are not, this will pay off in the future. For me personally in an ideal world an ergonomic work place looks something like this:
Height-adjustable desk
Height-adjustable monitor stand
Good quality keyboard
Contour Rollermouse (is my personal mouse of choice)
A rolling swivel desk chair with appropriate armrests.
And last, but not least: I'd use speech recognition to reduce my mousing and typing
You may say: "Janneke, that sounds like a cool setup, but that's not feasible for me at this point in time."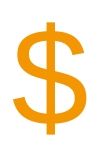 And I get it. After all, you are stuck at home and your income might not be secure. Maybe you can't afford to purchase anything right now. So let's see what we can do to improve ergonomics without breaking the bank. And don't forget that family, friends and neighbours could well have a spare of exactly what you need. They're probably happy to help you out. And this is the point where I have to write a little disclaimer: I am not an ergonomist or ergonomic specialist. Everyone is different and you will have to find a way to work from home that you can sustain. That might look quite different from what my ideal workspace would look like. Having said that, these are some tips that you might not have thought of yourself and that you find may give you relief if you need it.
Free ergonomic fixes for your remote workplace at home
These simple changes will make your dinner or kitchen table workplace more ergonomic.
1. Adjusting the height of your table to prevent RSI
You will probably have noticed that your desk in the office is quite a bit lower than the average kitchen table or dinner table. For me, the difference is almost 10 cm/4 inch. That's a significant difference. Why is this so important? Ideally, you do not want to have to lift your arms too much in order to be able to reach your keyboard. When you are sitting relaxed but straight on your chair and you keep your arms bent at 90°, your hands should be slightly higher than the surface of your table or desk. For you the difference may be less than 4 inches. Just try to emulate your usual work posture as closely as possible. Sawing a few inches of the legs of your table at home is probably not an option. Fortunately, there is an alternative: rather than lowering the table top, make sure that you are sitting higher.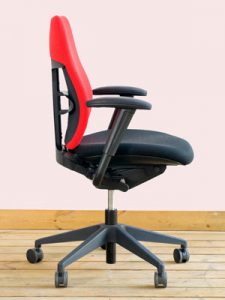 If you have a real office chair, with wheels, please use it. They are usually adjustable in height and the wheels make it much easier to quickly get up from your seat. No office chair? Perhaps the neighbours or family have a chair that they don't use. Why not ask if you can borrow it for the next few weeks. Sidenote: The wheels of the chair can damage your floor if they are not suitable. There are softer plastic wheels for hard floors and harder plastic wheels for carpet. If you're not sure, a piece of board to protect your floor might be a good idea.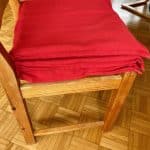 Stack to increase seating height What to do if there's no office chair to be had? Stack one or two flat and firm pads on the seat of a regular kitchen chair. Perhaps you have some of the smaller seating cushions or pads for garden furniture? That might work. It is important though, that your seat does not become wobbly and that you don't sink in cushions. Keep in mind how your office chair is firm, yet comfortable.
2. Adjusting the height of your computer screen to prevent neck strain and headaches
Hunching over your laptop is not exactly a healthy posture.
Free ergonomic monitor stand The trick is to increase the distance between your keyboard and your screen. If you have a separate keyboard and mouse, just place your laptop on a stack of books or box , so that you don't have to bend your neck in order to see the screen clearly. Most laptop screens are quite small, though, which in itself invites bad posture due to hunching over to see better. A better option would be to connect a regular size screen/monitor to your laptop and place that on a good height. You could use the laptop's keyboard, but even better than that would be to also use a separate mouse and keyboard. Then you can place all the elements of your workplace optimally.
3. How good are your mouse and keyboard? Prevent carpal tunnel syndrome.

You will have noticed that I am a huge proponent of separate mouse/keyboard when working on a laptop

. If the keyboard doesn't type comfortably, however, or if you have problems positioning the mouse accurately, you will increase muscle tension. This in turn increases the chance of developing muscle aches or even chronic pain. If you find that it is hard to position the mouse accurately, you should also consider using a mouse mat. You may not have one at home, but you can try other flat surfaces. Perhaps re-purpose a paper folder as a mouse mat. If it slides accross the table surface, don't hesitate to tape it. After all, this is not just for one afternoon, but for a longer period of time. You don't want to deal with small irritations like the mouse mat surface moving around.
4. Use dictation: Free speech recognition software options to reduce typing
The best speech recognition software for Windows would be Dragon Professional. However, that software is very much not free, so I will not pay too much attention to it. Still, if you find the other options lacking in functionality or quality, I encourage you to check Dragon out. The LearnSpeechRecognition Academy has your back if you want to become successful with Dragon. Check out our online digital course for Dragon here. Free speech-to-text options include:
5. Take short breaks often
Take plenty of breaks. Get up and move around, even if it's only for 30 seconds. Don't just sit there all the time; that is not healthy. If you can motivate yourself to do some stretching exercises, there are lots of resources on the Internet to suggest suitable exercises for office workers. Always forgetting to take a break when you're working? Protect yourself and install a software that prompts you to take (micro) breaks. I haven't used it myself, but one free option is Big Stretch Reminder.
Beg or borrow if necessary
I know, I may have mentioned this once or twice before in the article

It is so important for you to have a safe working environment that I don't mind repeating myself:
If you lack an external monitor or keyboard, a video cable, USB hub or an office chair... just ask around.
This article is written during the COVID-19 outbreak and generally people are really helpful. This is not the moment to be too proud to ask for help.
Speech recognition
Do you want to uplevel your speech recognition? After all, the most ergonomic keyboard is... no keyboard at all

Check out this free intro into Dragon Professional (for Windows) Check out this free intro into Apple Voice Control (for Mac)